Welcome to Heritage Farm and Stables - Paso Fino horses!
Thank you for visiting our site and letting us tell you about our farm.

We proudly train, breed and ride Paso Fino horses. These horses give you a luxury ride with sports car handling, earning them the reputation as the Cadillac of the horse world. Paso Finos have a natural, four-beat lateral gait, delivering a smooth ride without the "bounce" that trotting breeds have.

Paso Finos' smooth gait allows the rider to enjoy every step of the ride and helps prevent any pain from old injuries. Paso Finos are so versatile you can use them for any type of riding, from show to trail to speed and endurance events.

Charlie and Milda Minter, with their daughter Christina Minter Straus, are dedicated to the betterment of the Paso Fino breed and the horsemanship of the owners and riders. Although we specialize in training, breeding, and coaching with Paso Finos, we have experience riding, training, and boarding other gaited or trotting breeds as well. We are fully equipped and available to help you with any equine related problem.

Please have a look around and contact us with any questions you may have. Visits to the farm and lessons are available by appointment.





Events for 2017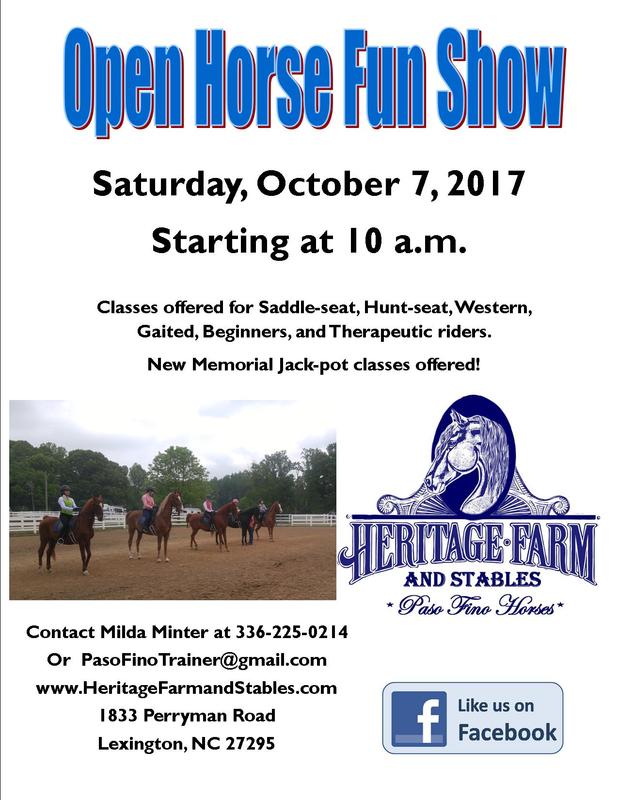 Carolina Classic Paso Fino Horse Show
Clemson, SC April 21-23
Heritage Farm and Stables Open Horse Fun Show April 29
Gaited Dressage Clinic
At our farm in Lexington, NC! May 13-14
Gainesville, GA Paso Fino Horse Show May 20-21
Piedmont Clinic and Fun Show
Heritage Farm and Stables June 3
Asheville Alive! Paso Fino Horse Show
Asheville, NC June 15-18
Summer Celebration Gaited Horse Show
Lone Hickory Arena, Yadkinville, NC July 15-16
Virginia Presidential Paso Fino Horse Show
Lexington, VA July 28-30
Open House at our farm! September 9th
11 a.m. - 2 p.m. *Demonstration rides! Reserve your spot!*
Paso Fino Grand National Horse Show
​ Perry, GA September 17-23
*Exciting news! Charlie Minter will be judging Nationals for 2017!*
Open Fun Horse Show October 7th
Starting at 10 a.m.



Recent Events
Additional Info

To stay up-to-date on new events happening at Heritage Farm and Stables, follow us on Facebook. Videos of horses are available on our YouTube channel "HeritageFarmandStables".

Visit our "Horses for Sale" page to take a look at some of our Paso Fino stock we are offering for sale. Also find some advice about searching for the perfect horse and what to consider.
Clicking on the logo at the bottom of each page will bring you back to the Home Page.